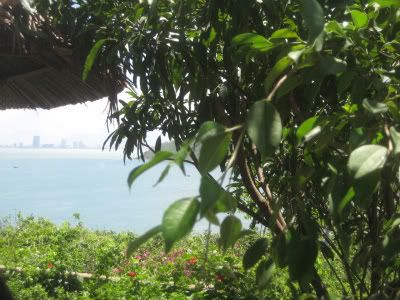 My remaining time in Vietnam was great. The last couple days in Ho Chi Minh city (Saigon) I got to DJ two very different parties. Thursday I played at a spot called Vascos with my older brother's bud from college, and local DJ Jordan Howard aka Hookers&Coke aka Mr.Wonderpants. His party was fun and had a lot more musical freedom. The following night I played at Fuse which was my main gig in the Ho. Fuse was jumping. It's a local Vietnamese hot spot and safe to say I was the only cracker in there. I played a fun 2 hour set followed by a late night food run.
I went to eat with DJ DUY and his crew of Vietnamese homies to grab some chinese. They suggested we eat family style which I am never opposed to. We sit down and the first two dishes come out. One is some sort of meat sizzling in a hotpot with leaves. I wasn't sure what type of meat it was and went in for a taste. They stopped me like, "Hey.. Your gonna eat that?". So I stepped back and asked them what it was. They informed me that what I was about to eat was Duck Tongue. I have never eaten tongue of any sort and it looked pretty weird. But, the sauce it was cooked in smelled bangin' so I Said, "ehhhh fuck it... give it a shot". I take a medium sized bite and, yeah, it was tongue alright. The texture and everything was a little much. I swallowed my bite but did not proceed on finished this "so-called" delicacy ...
Pic if the duck tongue after I took a bite
Next dish comes out, fried something, I ask what it is, they say part of a chicken. I am thinking, word, time to go in. I take a bite and it is a bit crunchy on the cartilage tip. So I ask, and it is fried chicken knuckles. After those two dishes I didn't trust their family style ordering tactics and ordered a personal dish.
The next day I flew out to one of Vietnam's top beach destinations, Nha Trang. Upon take off from Saigon there is talks of a typhoon hitting Vietnam. I am thinking great! Just in time rain on my beach plans. As we go to board the plane, sure enough, I see high winds thrashing around the palm trees outside. Then boom, torrential downpour hits as we get on the plane. The flight is delayed just a short bit and the rain chilled out enough for us to take off on the short 45 minute flight up to Nha Trang. When we get to close the captain informs us of the severity of storm going on beneath us and that it wont be safe for us to land. After circling above the clouds for an hour we were finally able to land.
NHA TRANG (On a Sunny Day)
I was picked up by the driver and we had a 40minute drive to Nha Trang. We had to drive through flooded roads and typhoon rain downpour. Mind you, my gig that night was supposed to be a Beach Party. At that point I was certain that was not going to be the case. The driver dropped me off at Sailing Club which is the venue of the party. They had to take down the huge stage they had built for me and set up everything under the covered area of Sailing club. A bit discouraged by the rain, they assured me there would be a good crowd. After sound check I went and settled in at the homie Quinn's place.
Quinn and his daughter Coco
Quinn is GMAN aka Garret Louie's (owner of Fortune Sound Club Vancouver + Timebomb Distro) brother. GMAN has been booking me in Canada for the last few years and linked me with his bro when I told him I was working on some Asia dates that might include Vietnam. Quinn was an amazing host. I stayed at his place where he had a private suite for me to stay for the 5 days I had in town. Aside from the great accommodations, Quinn linked up the Sailing Club gig and showed me around Nha Trang like a true veteran of the town. He is also the owner of Guava which is a very dope bar/restaurant. More on that later.
The Sailing club gig ended up being a blast. The rain let up later in the night and the crowd came out in full force. Due to the wetness (ayooo), everyone was under the inside area where I was playing which made a nice intimate setting to set the party off. I had the crowd in a frenzy throughout my whole set. Good times!
The next day Quinn took me and some of his fellows out to local eatery on the river away from the main tourist district. It was a bit of a drive til we got there and sat down for a nice meal. Mind you, Everywhere in Vietnam is filled with these little kid chairs. Not really suitable for a large American man of my stature, but I squeezed in and we ate some great food that day. Nothing too crazy off the menu but it was nice Vietnamese meal.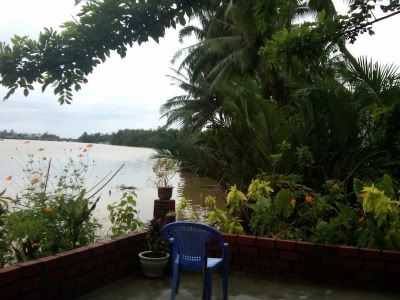 View from the restaurant + Little kid chair
Hard Boiled Quail Egg
Damn good Chicken Wings!
Later that evening I DJ'd a short set at Quinn's place GUAVA. I was instructed to play whatever I wanted, and did just that. Ran through some hip-hop classics, disco, and other randoms. Was a nice crowd with a lot of Expats (Tourists, backpackers, and/or white people living in Asia). They were very happy to hear some good tunes. The local DJs rarely stray from the pop format.
Throughout my stay I got to hang out with a couple of UK gangsters who have made their way to Nha Trang. One of which is a super cool dude J-Mac. His voice and demeanor reminded me of gangster straight out of Snatch. He has been on the go in Asia for who knows how many years. Aside from working in the Japanese porn industry a decade or two ago he also has a clothing line called Forty Thieves and laced me up with some fresh tee's.
My Fav Design from J-MAC
Another timeless UK fellow had an amazing story of how he used to push powder in Bangkok, got bagged... served a couple years then escaped prison... Pretty gully... (Names and pics are left out to protect the.... uhhh....yeah)
The next day Quinn had a special treat lined up for us... SNAKE DAY! We met up with Quinn's wife's parents who led us to a super locals snake spot...
We get there and it is a bamboo hut over a river. We walk in and the people running the place have huge smiles on their face as they rarely see Americans that far out in the jungle. We walk right in and the kitchen and the had bins and bags full of snakes everywhere. They ask us what we want and they start pulling snakes out of bags. Cobra was on the menu as well. He brought the cobra out and started smacking it on the head to it would get pissed and flare out its hood. That cobra was pissed and hissing like a mofo! Thank god they kept his ass in the bag. I might of shit myself otherwise. We chose the "Jungle Snake" for the main course. The chef grabbed it out of the bag and held it up. It was about 6feet long. We took some snap shots and then they grabbed some scissors and snipped its head right off. Then they held the snake and drained its blood into a glass. Once they drained the blood they poured it into a bottle of vodka and made the infamous snake blood vodka. After witnessing that we took our seats at the table.... (Kiddie chairs, Kiddie Table, BIG JayCeeOh)
Draining Snake blood from the freshly beheaded reptile
After we are seated they bring out a little dish with the still beating snake heart on it. The homie Nate volunteered to be the brave soldier and take it down. They put the beating heart into a shot glass and poured vodka into it. He took it down like a champ and it didn't seem to phase him at all. Mad Props to Nate! Your the man for that one... (check back for video of this)
After that they started to bring out the various Snake dishes... BUT first... SNAKE BLOOD SHOTS SHOT SHOTS SHOTS SHOTS!!!!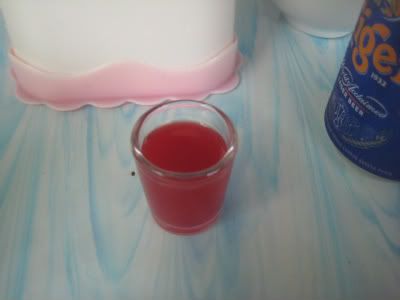 I admit I didnt go as hard as everyone else on the snake blood shots... But I did give it a try...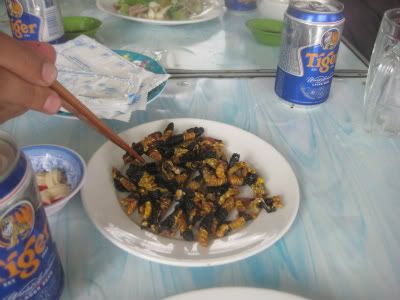 Fried Snake Skin... Not Bad... Little chewy though
Snake on a Stick (ayooo)
The next day the sun finally cleared up and Me Nate and a couple of Quinns promo girls went to Vinpearl which is a Island that you take a cable car over the bay from the mainland. It is filled with waterslides, bootleg roller coasters, arcades, and an aquarium. Kinda touristy, but figured lets get some sun and ride some slides. This waterpark was nice but not exactly up to date. For starters, the stairs to the slides were a killer. They were basically fire escape metal stairs all the way up. With barefeet, and 90+ degree weather beating down, my dogs were pretty toasted by the end of the day. I got some good footage of the crazy fish in the aquarium... (check back for the tour video)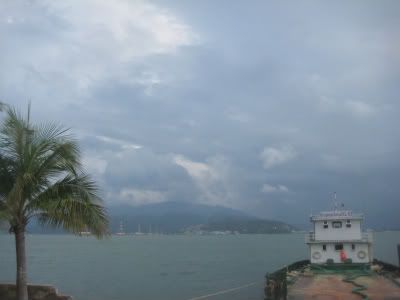 View from Vinpearl Island Looking back at Nha Trang
I had a late afternoon flight out of Nha trang to Saigon on a one night layover before heading to my final destination, Manila, Philippines. Before my flight me, quinn, and Paul, and Jmac went to Lousianne which is the nice restaurant/beach club right on the water. We soaked in some rays while sipping mulitple beers. It blows my mind how cheap everything is there. We were at what is considered one of the more high end places in the town. Between the four of us we drank 16 beers and all ate a full meal. Our Bill was 38 bucks. If your balling on a budget and can get yourself to Nha Trang, you can live like a king for cheap.
I finally made it to Manilla and was scooped at the airport by the good homie Banj. Banj was actually the first person to reach out to me about bringing me to Asia. We have been pushing to try and work out a booking for what seems to be a couple years. I am glad we finally made it happen when my other dates came to fruition. He took me from the airport to my hotel which is located in the Makati district in Manila. This area was not what I expected. I heard it was the rich part of the city but thought it would still have a 3rd world feel to it. Not the case. Makati felt like I was in the middle of "you name it" american downtown area. All new buildings, a huge mall with every familiar store you could think of. They even had Chili's and California Pizza Kitchen. Now, at this point in the trip I wasnt mad at some familiar surroundings, but I still wanted to check out some real Philippines shit. I didnt have enough time to hit the coast to the beaches of Borocay which I hear is amazing. So we made the best of my time within the city of Manila. I had two days before my final gig at Palladium. Banj took me around the city and met a gang of folks. We met up with DJ RYE, and DJ Arbie and hit the town. We stopped by the offices of Team Manilla and I met the guys over there. They have a very dope operation going. I went to their store and they laced me up proper with a gang of T'shirts. I am wearing one as I write this actually.
TEAM MANILLA T
We rolled out to the small but growing streetwear shops and met some new folks over there. We then did a photo shoot for Clavel Magazine ( http://www.msclavel.com/ )which will be doing a feature on me in one of the upcoming issues...
My Fav pic from the shoot
Saturday came rolling around and it was show day! Had a light day then checked out this Pool party/ mini-trade show called First Dibs where local brands and designers had booths set up. The homie DJ Rye was spinning and they had BBQ, so you know i was happy.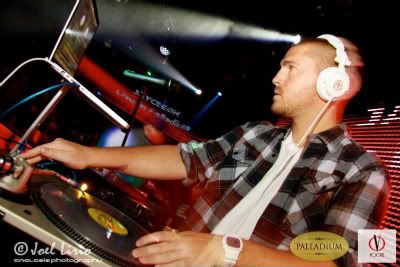 @ PALLADIUM (MANILA, PHILIPPINES)
Finally I made it to Palladium for my set time. It was attached to my hotel, nice and convenient. Apparently Manny Paquiao is part owner of the club as well. Anywho, ss I started my set there was some technical difficulties with the turntables and the subs hitting right up the stage. Most DJs in Asia use CDJs so the turntable set-up wasn't normally where they had me set-up. After about 30 minutes of frustrating attempts at fixing the decks while playing songs in internal mode I had them bring CDJS ove, which I plugged in and played the rest of my set on. I have never played a set on CDJs in my life. So It was a bit of a challenge. Thank god I always kept the serato CDs in my DJ bag. I pulled through and still rocked the party like a champ. Halfway through my set they came out with a bottle of champagne and a birthday cake for me as an early bday celebration. Ended up being a fun night. Big thanks to Banj and the crew for making it all happen and making me feel comfortable in Manila.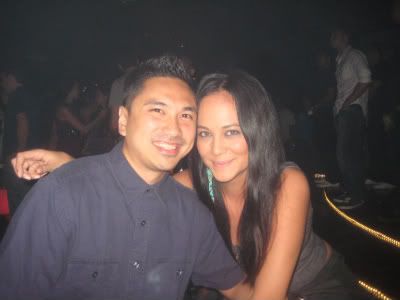 Banj + Sarah (Good Peoples!)
After it was all said and done my inaugural Asia tour was amazing. Made great connections and friends in every city I went to. I feel like I have a bright future and will be back in Asia frequently throughout the rest of my career as a music man... Thanks to everyone who helped me make this tour happen!!! Love yall!!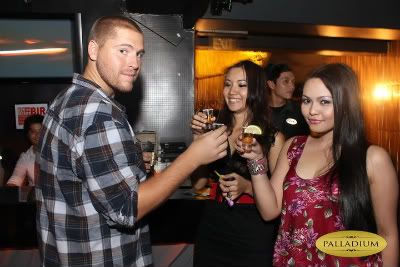 Final Shots of the tour with some of the Palladium staff
See you back in Asia sooner than later...
check back soon for the video of all the live action!