Thursday, September 16, 2010
Friday, September 3, 2010
I am about to head out for a super long 10 week tour for Alize Academy alongside KEYS-N-KRATES and HEY CHAMP... This is the promo mix I did for the tour... We will be giving out these CDs everywhere across the US. Dates will be posted very soon on
www.alizeacademy.com
... Stay tuned for tons of updates and videos from the road... enjoy the mix... Feel free to share, blog, etc....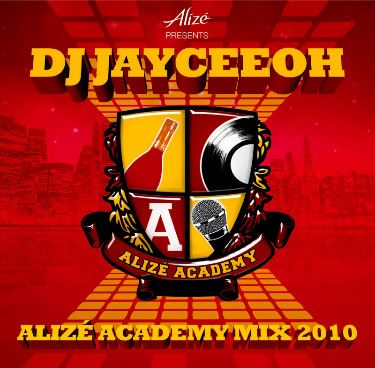 ALIZÉ Presents: DJ JAYCEEOH "ALIZÉ ACADEMY TOUR MIX 2010" by DJ JAYCEEOH
TRACKED OUT ZIP
http://www.mediafire.com/file/dsk7nhjbpjmzhba/AlizeAcademyMix2010.zip
1. Go Hard, Stay Fly Intro (JayCeeOh Edit)
2. Lil Wayne feat Gucci Mane - We Dont Want No Gobblins (A-Trak Remix)
3. Mark Ronson - Bang Bang Bang (JayCeeOh Edit)
4. Uffie - Add Suv (Armand Van Helden Remix)
5. Bart B More - Brap (JayCeeOh Edit)
6. Busy Signal feat Movado - Badman Place (JayCeeOh Remix)
7. Carte Blanche - Gare Du Nord
8. Carte Blanche feat Kid Sister- Do! Do! Do!
9. Ludacris - My Chick Bad (Scene Remix)
10. Senior Stereo - Dancing Time
11. Bodyrox & Luciana - Shut Your Mouth (JayCeeOh Edit)
12. Dondria ft Jermain Dupri - You're The One (DJ Chuckie Remix)
13. Klass - It's My Day (JayCeeOh Edit)
14. Fake Blood - I Think I Like it (Tommy Sunshine ) (JayCeeOh Drum Edit)
15. Black Tiger Sex Machine - Keep Makin Me High
16. Donaoe - I'm Fly
17. Phoenix - Long Distance Call (25 Hours a Day remix)
18. Busy Signal - Da Style Deh (Douster Remix)
19. Hey Champ - Cold Dust Girl (JayCeeOh Dancefloor Edit)
20. Samuel - Champagne Kisses (ATLAS Remix)
21. Laidback Luke - Step by Step
22. Gyptian - Hold Yuh (Major Lazer Remix)
23. Dj Eleven - Every Freaken (Illo & Kaem Remix)
24. Drake - Unforgettable (Keys N Krates Remix)
25. Drake feat Baby & Lil Wayne - Money To Blow (Jobe Remix)
www.alizeacademy.com for Tour Dates + Details
Posted by

DJ JAYCEEOH
at 10:04 AM
No comments:
Links to this post