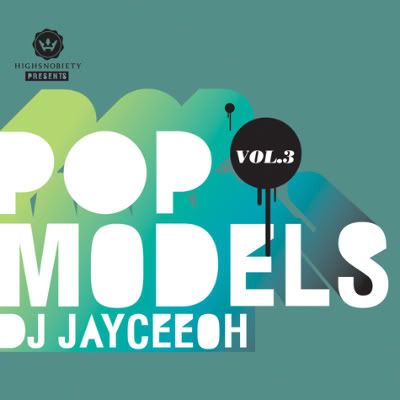 Internation Fashion and Culture hub Highsnobiety has teamed up with Super 7 Creator, DJ JayCeeOh for the release of "POP MODELS 3". Just in time for summer, PM3 is a high energy mix of Electro, House, Disco, Funk, and Baltimore Club chalked full of original edits and remixes, weaved together like only JayCeeOh can. Look out for Highsnobiety x JayCeeOh (US/Europe) Summer Tour 2010 jumping off July 15- August 15th. Please contact jerald.cooper@gmail.com if interested in booking a party or in-store.
Highsnobiety
Presents
DJ JAYCEEOH
"POP MODELS Volume 3"
DOWNLOAD LINK:
HIGHSNOBIETY Presents "POP MODELS 3" Mixed By DJ JAYCEEOH by DJ JAYCEEOH
http://www.highsnobiety.com/news/2010/0 ... -jayceeoh/
1. Swizz Beats vs Krs One - Blow My Mind (JayCeeOh Edit)
2. EL Trago - Machete Mix (JayCeeOh Edit)
3. I'll Get You - (Light Years Bass Remix)
4. Wiley vs Diana Ross (B.A.R.T.O Edit)
5. Imma Be (Wolfgang Gartner Remix) (JayCeeOh Edit)
6. Bob Sinclair - New New (Julian Crediance remic)
7. Dragonette - Fixin To Thrill (Villians Remix)
8. Rock That Body - (Api De Ap & DJ Replay Remix) (JayCeeOh Edit)
9. MArk the 45 King - 900 Number (Fn Dannyboy Remix) (JayCeeOh Edit)
10. Crookers feat Will.I.Am - Fly Away (JayCeeOh Edit)
11. Calvin Harris vs Soul Searcher
12. Noria - (Chaos In The CBD G-MIx)
13. Renco & Ruqiero Bootleg (JayCeeOh Edit)
14. A Mover La Colita (Interlude)
15. Surkin - Fan Out
16. Hot City - Hot City Bass
17. Bingo Players - When I Dip
18. Noob & Brodinski - Peanuts Club (JayCeeOh Edit)
19. No Worry (JayCeeOh All Night Edit)
20. Dont Stop The Body Rock (DJ Kue 1986 Remix) (JayCeeOh Edit)
21. Stash Horse - U Are The One
22. DJ Chuckie - Aftershock
23. Bass Line Pumpin Interlude
24. U-Tern - Syle Class Fair
25. Senor Stereo - Hot Damn
26. Gorillaz - Stylo (Remix)
www.hollerboard killer.com/jayceeoh
www.myspace.com/jayceeoh
www.jayceeoh.blogspot.com
www.youtube.com.jayceeoh
feel free to share and blog!